Competitions
Scroll through the categories and rules for our mid and year end competitions.
To see the results of recent competitions click the link below.
2022 End of Year Competition Winners
2022 Mid Year Competition Winners
2021 Year End Competitions Winners
2021 Mid Year Competition Winners
2020 End of Year Competition Winners
21 Supreme Award
COMPETITION CATEGORIES:
1.Mid year competitions
BEST STILL LIFE Richard Perkins Memorial Trophy
A still Life depicts inanimate subject matter (not having qualities of
active living organisms) everyday objects, whether natural objects (flowers, food, wine etc) or manufactured items (books, bottles, crockery etc.
BEST LANDSCAPE (including CITYSCAPE) Eric Hussey Cup
A work that depicts rural scenery such as mountains, valleys, trees, rivers, lakes tidal estuaries and forests, especially where the main subject is a wide view.
BEST SEASCAPE Eric Hussey Cup
A seascape includes sea with or without coastal landforms in content. It may also include boats in harbours.
BEST PORTRAITURE Thelma Graham Plate
A portrait is an artistic representation of a person from waist up, in which the face and its expression is predominant. The intent is to display the likeness, personality and even the mood of the person.
BEST PENCIL DRAWING Joan Lushington Sketch Trophy
A pencil drawing is done on Drawing paper and Graphite Pencil.
BEST BLACK & WHITE Reg Chalmers Memorial Rose Bowl
Using Titanium White and Carbon Black or equivalent in your medium.
BEST MIXED MEDIA Dale Mitchell Memorial Cup
Mixed Media includes any work that has more than one medium used in its construction.
BEST FIGURE STUDY Ray Thompson "La Vie" Trophy 2.
A figure study is of a human model clothed, partly clothed or nude and is a representation of the full body of the model, or parts of the model such as hands or feet.
BEST PEN & INK (INCLUDING LIGHT WASH) McTavish Trophy
Pen and ink may use ink and include a light wash on the paper.
2. End of Year Competitions
PRESIDENT'S CHOICE Reg Charman Memorial Cup
Work in any medium on the theme chosen by the President,
for that year.
Topic changes each year – will be notified in Newsletter
BEST EMERGING ARTIST President's Trophy
(of up to 2 years as an artist, not just 2 years at TSA)
Topic changes each year – will be notified in Newsletter
BEST PASTEL Marie Peters Millennium Cup
A work in any theme using soft or hard pastel sticks, oil pastels or pastel pencils.
TAURANGA SCENE Marge Martin Salver
Work in any medium on a theme associated with Tauranga suburbs within the city boundaries and recognisable as such. Includes Greerton, Welcome Bay, Maungatapu, Papamoa, Mount Maunganui, Otumoetai, Bethlehem, Avenues and the city centre.
BEST ACRYLIC Georgina Don Memorial Cup
A painting in any theme using Acrylic paints.
BEST WATERCOLOUR Carter Brothers Award
A work on any theme using watercolour paints (tube or pan) or watercolour pencils with light wash.
BEST ABSTRACT Cam Burgoyne Thomas Memorial and Keith Corner Memorial Trophy
A work in any medium that does not depict a person, place or thing in the natural world – even in an extremely distorted or exaggerated way. It explores the relationships of forms and colours.
BEST COLOURED PENCILS Jensen Trophy 4.
Includes water soluble pencils but no washes.
Work in any theme produced using coloured pencils, but no washes.
BEST OIL Grace Walsh Trophy
A work on any theme using oil colour paints.
BEST CONTEMPORARY Contemporary Art Award Any theme, any medium. The art of today a reflection of modern day life.
COMPETITION RULES:
All entries to have been completed within the 12 months prior to the competition.
Entries must be entirely the member's own work and not done in a class of instruction, or copied from publications or photographs taken by other people without their written permission.
Entries must be presented in a finished, dry condition, framed or otherwise finished ready for hanging, with D rings and cord, or finished in a stable mount with a rigid backing – able to be supported and hung.
Airbrushed works of art will be accepted but must be labelled as airbrush in its Medium category. If a painting is part airbrushed and part painting it must be labelled as Mixed Media/Airbrush in its Medium category.
All entries must have the name of the member, and the category/competition being entered, securely attached to the back of the work on a swing tag long enough to go over the top of the painting and hang in front of the work. The member's name to be covered on the front, if the work is signed.
One entry per person per category will be accepted, unless otherwise stated by the competition co-ordinator.
Members can enter in absentia if another member presents and collects their work.
All competing members must be financial.
The Committee reserves the right to reject any entry that does not meet the above criteria.
All entries will be displayed on the Society's Exhibition Screens – No easels used.
All entries are to remain on display until 12.30 pm. Artists may collect their paintings after 12.30 pm.
Art in the Park
and around Tauranga
Art in the Park
There is an opportunity for members to sell their art at Art in the Park.
Coronation Park
Mount Maunganui 8.00 am– 5.00 pm
Every 2nd and 4th Saturday of the month.
Art on the Strand
Members may also sell their art at Art on the Strand.
The Strand
Tauranga
Every 1st and 3rd Saturday of the month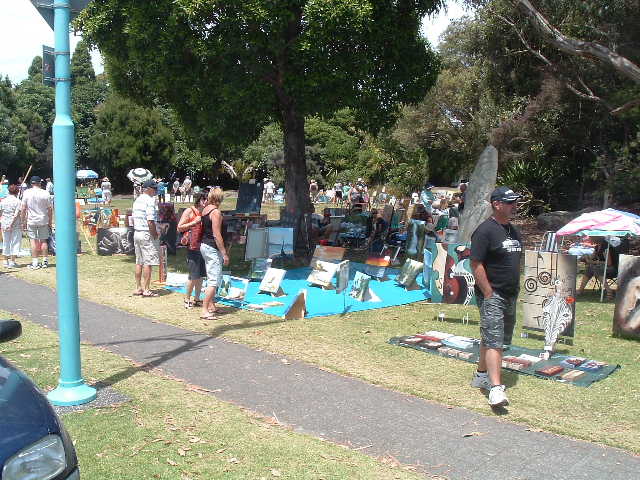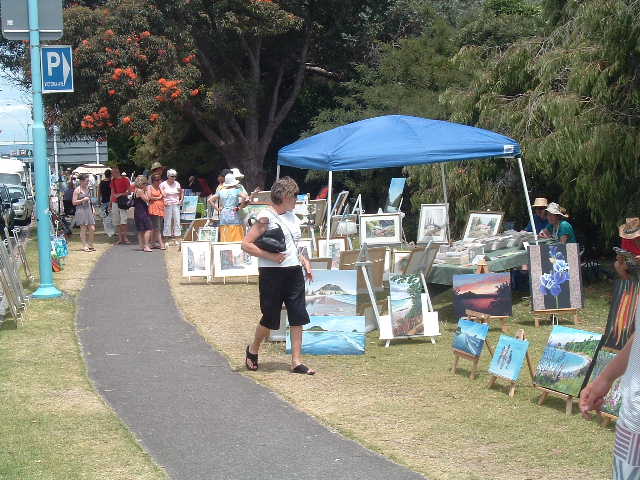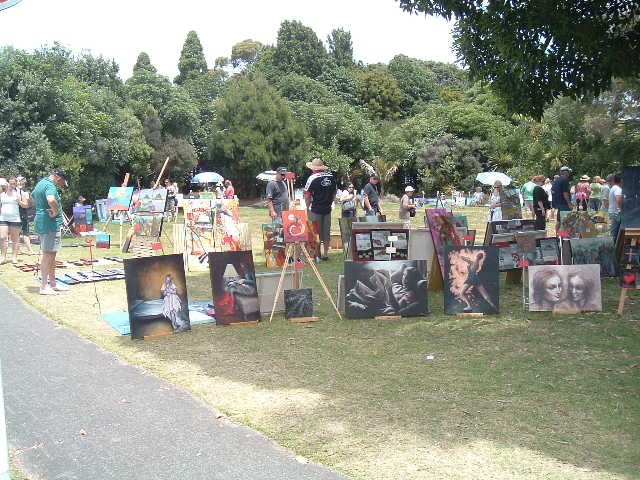 Art in the Park – last summer at Coronation Park, Mt. Maunganui