Members of the Tauranga Society of Artists are able to participate in these cash and carry exhibitions which run over 5 days.
Art Expo 2019
Including Trustpower/TSA Supreme Art Award
Art Expo 2018
Including Trustpower/TSA Supreme Art Award
Thank you to the 63 Artists who entered the June Art Expo/Trustpower Supreme Awards. 39 paintings were entered in the TRUSTPOWER Supreme Awards and 240 paintings in the Art Expo.
Sales were once again at the record number of 61 paintings sold. A huge THANK YOU to all the members who helped on Set Up day on Tuesday, Break down on Sunday and throughout the five days of the Expo. Without those members help the Exhibition would not run so smoothly.
A special thanks also to the Judge – Jenny Coker and to Alice Boyd from TrustPower for presenting the TrustPower Supreme Award prizes.
This was another extremely successful Expo with over 900 local and out of town visitors attending over the five days. The timing of the Expo clashed with the Field Days, which may well have affected attendance. It is recommended that the June Expo in 2019 be held one week later to avoid this.
The variety of Art on display was of an excellent standard; with a wide variety of mediums and style of Art works offered for selection – covering traditional, abstract, modern and contemporary .
There was excellent feedback and comments from the public – stating what an exceptional and high standard of work was available both for viewing and for sale.
The Society is extremely appreciative of the support from our Sponsors – TrustPower, TECT, Creative Communities Tauranga, Ultimate Motor Group, Cooney Lees Morgan, and also to Brookfield New World, Warehouse Stationery Cameron Road , Val Tubman, and Dorothy Armstrong for donating prizes for our Raffle
Berys Suridge Exhibition Coordinator
The winners of the awards in 2018 were:
Trustpower/TSA Supreme Award: Kate Browett with "Well my Mum thinks I'm Beautiful"
Runner Up: Birgitt Shannon with "Cosmic Waters "
Merit Awards: Lynne Dara, Deanna Flood, Debbie Clarke, Pat Elston, Janice Giles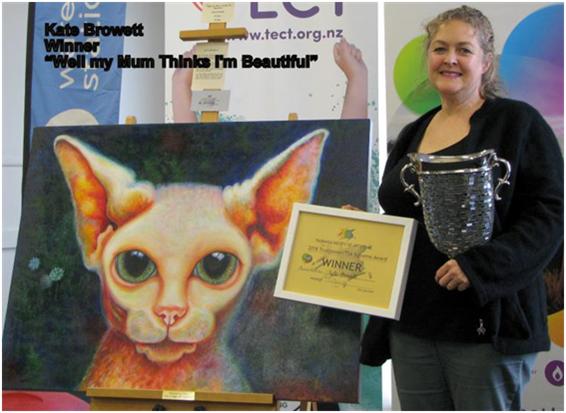 2018 Supreme Art Award Winner, Kate Browett with "Well my Mum thinks I'm Beautiful"
2018 Supreme Art Award Runner-Up, Birgitt Shannon with "Cosmic Waters"